Customer Reviews
Write a Review
Ask a Question
03/22/2021
Emmons P.

United States
Only thing missing were instructions
I know, how hard can it be. I have been using them effectively. Then my wife got involved. Pointed out a "fill line". Oh... guess you better include a 30 page manual or something! Seriously, we love them. Got four total, two different sizes. Easy to use, stack great. Souper idea!
03/11/2021
Diane H.

United States
Convenient but did have some frosted food
I bought 2 cup sized containers. I've only used them once, and they were easy to get the food out. However, I did notice a little frosty-ness to the casserole I had filled them with. Only been frozen for like 5 days or so. Not sure if I need to be concerned about that or not.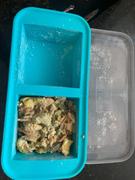 Hi Diane, Thanks for your review. a little bit of frosty ness on the top of your frozen food is nothing to worry about. Anything that is exposed to air at all when freezing can develop a bit of frost. To minimize it let your food cool in the fridge first before you put it in the freezer. You can also check to make sure that there is minimal moisture on the inside of the lid before you put it in the freezer. Happy Cooking, Jake
03/07/2021
Joy D.

United States
Souper Cubes
Freezing soups and chili in these makes sharing with family very easy.
03/06/2021
chris w.

United States
Great product
Very well made, can't wait to use them
03/06/2021
Lorna S.

United States
Souper Good
My new favorite utensil. Bought the 1-cup and 2-cup cubes. Have only used the 1-cup so far to save and freeze some soup I made. But I am already a fan! Sturdy, easy to use, and remove cubes- makes storage a breeze, and portions out for easy reheating. I love making big pots of soup, stews, etc., and look forward to utilizing my Souper Cubes and having tasty leftovers for a quick meal moving forward.