Customer Reviews
Write a Review
Ask a Question
11/29/2020
Elizabeth J.
United States
I love these
A great product. I use them all the time. Mostly for soup,broths, stocks but they can be used for so much more. I have a lot more room in my freezer and they are so convenient. I love that they are BPA free. I'll be purchasing more and I've been telling everyone about them.
11/28/2020
Eleanor P.
United States
I'm addicted
I'm spending the entire post-Thanksgiving dinner using Souper Cubes to create future meals. They are perfect for soup, stuffing and cranberry sauce. Everyone in my family is getting some for Hanukah.
11/23/2020
Lisa F.
United States
Love them!
I bought the double pack of the 2-cup and 1-cup. They've been in constant use. So far I've frozen bean stock, beans in broth, refried beans, vegetable stock, pineapple and pineapple sauce. I'm looking forward to freezing soups and chili and sauce next summer, which I stopped doing because I hated using ziploc bags to freeze it. The frozen cubes push out of the silicone molds so easy. I'm so thrilled and grateful to have discovered them.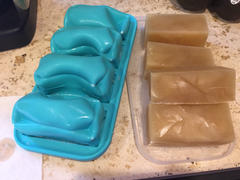 11/17/2020
Janette L.
United States
Love these!
I struggle with finding the right size container for different leftovers I freeze and I dont like using tons of Freezer bags. These make it easy for make ahead meals of leftovers and once frozen I put them in freezer bags that I constantly reuse. The frozen foods pop out after slightly thawing a half hour, then just wrap, label and stack the frozen cubes. These help save space in the freezer and make it easy to organize it. I recommend putting the filled cubes on something flat while freezing or the cubes bottom freezes to to the shape of whats below it making food a bit awkward to remove from the cubes. I really love these. I bought two sets each of the 1 cup and 2 cup cubes. They are a bit pricey but a game changer for meal prep. No searching for the right container. They clean up easily too. I think my mom will be getting these for Christmas! LOL!!!
11/15/2020
Paula M.
United States
Fabulous!
I just baked some bread in the 2 cup cubes, they are perfect! The metal ring around the top really helped and the breads came out perfect for sharing in our current social distancing era. I bought these for a Christmas gift exchange but decided they were the perfect gift for myself and I was right.