Customer Reviews
Write a Review
Ask a Question
09/15/2020
Staci S.
United States
Love these cubes!
I absolutely love this product! I made some roasted tomato soup to enjoy my huge tomato bounty into the fall and winter. What a game changer for freezing and storage. I love how you can measure perfectly in the cubes and then pop them into freezer bags for storage. I may have to buy some more for my family members.
09/15/2020
Jennifer T.
United States
Great product!
This is just what I've needed! I froze 1 cup servings of pasta sauce and they popped out so easily! The trays were easy to clean and store.
09/13/2020
Rebecca S.
United States
Excellent product!
Saw these in Real Simple magazine and thought they were an excellent idea. I recently purchased two 2-cup trays and have only had a chance to use them once so far for a big batch of soup. These are perfect portions, perfect for my small freezer, and perfect for weeknight meals, as I really dread cooking after I get home from work. These allow me to make good quality food to enjoy whenever I want. Can't wait to make lasagna and more!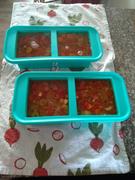 09/12/2020
MISSY S.
United States
Meals for Two
Cooking a casserole in a 9 x 13" pan for two is a nightmare. Lasagna for 10 nights in row. Souper cubes allow us to portion out reasonable servicings to freeze and enjoy when we have a taste again for lasagna. So easy to fill and so easy to pop out even for these old hands. Love these
09/08/2020
Valerie C.
United States
Love these trays
I love Souper Cubes for freezing soups and spaghetti sauce - it's so easy to store the cubes in plastic bags in my freezer. No more unwieldy containers taking up too much space. It's also so nice to be able to just remove the amount I need rather than defrosting a whole container. I have not tried baking in them, but that's next!