Description
Our 5" square stoneware baking dishes are perfect for baking or serving smaller portions of food. Each stoneware dish fits food previously frozen in 2-cup Souper Cubes® trays.
Elegant and practical, you can use them to bake or serve individual meals or side dishes.
Set includes two 5" square dishes.
Features
Dimensions 5" x 5"
Dishes nest for convenient storage
Designed to fit food frozen in 2-cup Souper Cubes® trays
Lead and heavy metal free glaze (CA Prop 65 compliant)
Safe for: microwave, oven, broiler
Dishwasher safe, hand wash recommended
DO NOT place it on the stovetop or any other direct heat source.
Freezing Suggestions
Lasagna
Shepherds Pie or Cottage Pie
Fruit Crisps
Bread Pudding
How Do Souper Cubes Work?
Fill. Freeze. Reheat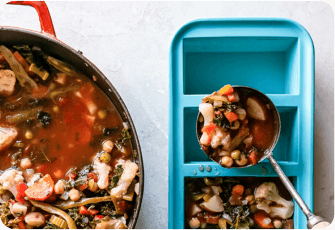 Put your food into the Souper Cubes tray, hot or cold!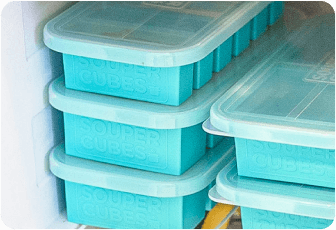 Place the lid on top of the tray and store your Souper Cubes tray in the freezer.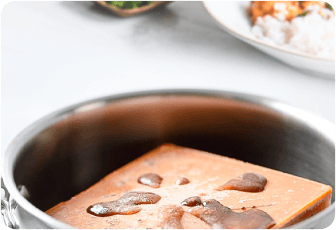 Pop your frozen food out! Reheat in the microwave, on the stove (in a pot), or in the oven – it's your choice!
Reviews from the #SouperCubesFam
Customer Reviews
Write a Review
Ask a Question
09/27/2023
Ann M.

United States
Absolutely love these!
Souper cube trays are the perfect size for my air fryer. It makes cooking single serving meals so easy and effortless. The color is also so beautiful
09/11/2023
Conrad D.

United States
I love these square baking dishes!
I love these square baking dishes! I ordered them to use with the 2 cup super cubes and find myself using them for a lot more. So handy to heat things up in the microwave because of the little handles. Great for serving snacks in too
07/24/2023
Jodi T.

United States
Love these dishes
Really love these dishes, especially for portion control. Wished they had some type of lid/cover but not sure if design allows. Still love them regardless
07/06/2023
Stacy W.

United States
Perfect dish
These are so handy.
06/09/2023
Darragh D.

United States
Souper Cubes = Gumbo Weather
http://culinarypa.blogspot.com/2023/06/souper-cubes-ever-hear-of-souper-cubes.html