Description
Features
Freezing Suggestions
How Do Souper Cubes Work?
Fill. Freeze. Reheat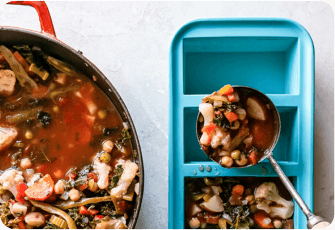 Put your food into the Souper Cubes tray, hot or cold!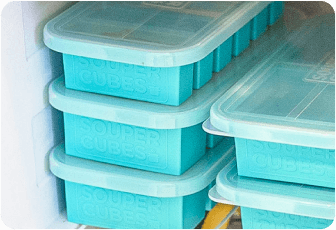 Place the lid on top of the tray and store your Souper Cubes tray in the freezer.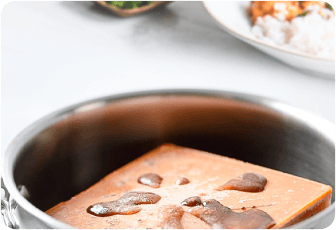 Pop your frozen food out! Reheat in the microwave, on the stove (in a pot), or in the oven – it's your choice!
Reviews from the #SouperCubesFam
Customer Reviews
Write a Review
Ask a Question
Replacement Lids
I had 1 lid break. I reached out to Souper Cubes and they honored the warranty and replaced the the broken lid. I would recommend this product due to the product itself and customer service support.
11/03/2022
Kayla

United States
Excellent Product!
I love these! In the past, I have frozen breastmilk in storage bags, and I always either didn't have enough and had to thaw a whole other bag, or had too much and wasted it. I also had a terrible time with them leaking and losing lots of milk. I'm so happy with MyMilk trays! I just had my 4th baby, and have been saving every drop of let-down milk and colostrum with my Haakaa and dump it into the tray and pop it into the freezer. I love that the lid is airtight, and the quality is top notch! I feel good knowing I'm not wasting all those bags anymore, and when I need to prepare a bottle, I can get exactly how much I need without wasting any. 1/2 oz portions are perfect! I would strongly recommend this to anyone who is breastfeeding!
05/19/2022
Meghan M.

United States
Amazing customer service
One of the tabs broke my my lid and I reached out. They immediately sent me a replacement! I've had no problems since and use my trays all the time.
05/03/2022
Melanie K.

United States
Excellent Customer Service
I recently purchased two MyMilk trays and within a few days, I accidentally snapped a latch off of one of the lids (which is highly unusual). I wrote an email inquiring as to whether or not I'd be able to get a replacement, and not only did Michelle promptly reply, but she sent two replacement lids free of charge right away. I was so impressed by this excellent customer service and have gone out of my way to tell all my breastfeeding mama friends about these trays. I truly love using them - it's so much easier and more eco-friendly to freeze breast milk this way than in single-use plastic bags. It's worth noting that I also own and use Souper Cubes - we eat a lot of soup during our cold Wisconsin winters, and I've loved how convenient it is to store large batches in single-serve portions this way. We love this small family business and will continue to support them by purchasing their high-quality products and spreading the word to family and friends.