Revolutionizing

Breast Milk Freezer Storage
Hi! I'm Michelle, the proud parent of Souper Cubes (and my toddler, Benjamin). For years, moms had been asking us to design a storage solution for freezing breast milk. When I was pregnant with Benjamin, I knew this was the time. I designed MyMilk trays for myself and every other breastfeeding mom who was looking for an easy way to freeze breast milk in small portions. I know how hard it can be to pump enough milk to store in the freezer and it was so important for me to be able to thaw and reheat the exact amount I needed for Benjamin without wasting a single drop.

Our Reviews
Our Customers
LOVE

MyMilk for Breast Milk Freezer Storage

(And We Think You Will Too!)
Review Highlights
The
#1 Alternative

to Breast Milk Storage Bags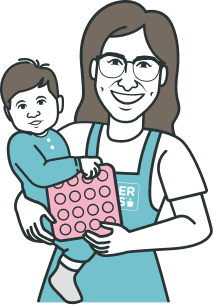 | | MyMilk Trays | Breast Milk Storage Bags |
| --- | --- | --- |
| Freezer-Friendly | | |
| Leak-Free | | |
| Perfectly Portioned | (freeze in half-ounce portions) | (freeze in 4-6 ounce portions) |
| Reusable | | |
| Thaws Directly in Bottle | | |
| Easy to Fill | | |
How to
Freeze & Store

Breast Milk with MyMilk Trays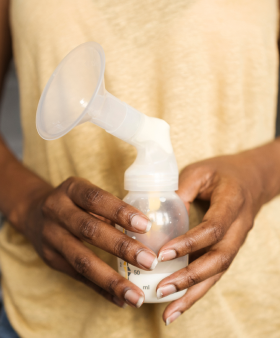 Pump breast milk directly into a bottle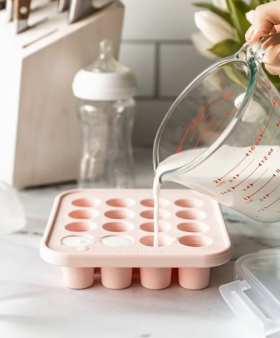 Pour pumped milk into MyMilk trays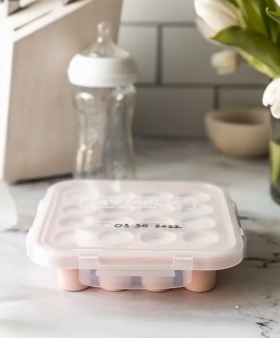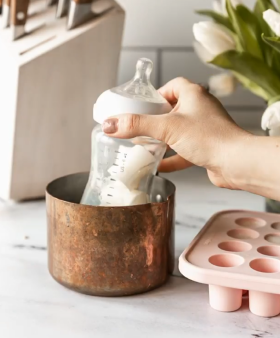 Thaw frozen milk cubes directly in a bottle
Frequently Asked Questions
How do you freeze and store MyMilk breast milk cubes?
Once you have filled your MyMilk tray with breast milk, put the lid on and label the container with the date. Then, place your MyMilk tray in the back center of your freezer. This will ensure that your breast milk stays cold. Freezing breast milk in the freezer door is not recommended because it can have a more variable temperature as you open and close the freezer.
You can keep your frozen breast milk in MyMilk trays for 6-12 months in the freezer, or transfer it to a freezer-safe zippered bag. Storing breast milk cubes in a freezer-safe zippered bag allows you to reuse your MyMilk tray to freeze more breast milk. An additional option for longer-term freezer storage is to transfer your frozen MyMilk breast milk cubes into vacuum-sealed bags.
Be sure to store your oldest milk at the front of your freezer and your newest milk at the back to ensure that you use the older milk first.
Check out our article on breast milk freezer storage ideas for more helpful tips.
How do I thaw MyMilk breast milk cubes?
Once you have transferred your frozen breast milk portions into a bottle, there are a few different methods you can use to thaw the milk:
Put the bottle in a bowl of lukewarm water
Place the bottle in the refrigerator overnight
Use a bottle warmer
When thawing your milk with water, make sure that the water is lukewarm and not hot to avoid overheating the breast milk.
What is the maximum amount of breast milk I can freeze in each MyMilk cube?
Each MyMilk tray has 16 half-ounce wells to allow you to freeze a total of 8 ounces of breast milk per tray.
What are MyMilk trays made from?
MyMilk trays are made from 100% pure platinum silicone and are BPA-free, dishwasher-safe, and even oven-safe. Our lids are made from 100% BPA-free polypropylene plastic.
How do I clean and sanitize MyMilk trays?
We recommend cleaning and sanitizing your MyMilk trays before first use. You can clean them in the dishwasher or in the sink with warm water and soap.
To sanitize, you can:
Place in boiling water for five minutes
Place in the dishwasher with the sanitize setting on
Place in a sanitizing machine
For the most updated information on best practices for cleaning baby bottle accessories, please visit the CDC.
How should I label and date my breast milk using MyMilk trays?
There are two ways to label and date your breast milk. You can either place a piece of masking tape on a dry lid and date it with a permanent marker. Or, you can use a water-based paint marker on a dry lid.
Will frozen MyMilk cubes fit in my narrow-mouth baby bottle?
Yes, MyMilk trays were designed so that the frozen MyMilk cubes can fit in any baby bottle - narrow-mouth and wide-mouth.
Where are MyMilk trays made?
MyMilk trays are manufactured in China, in a factory that pays fair working wages to its employees. All of our trays are tested multiple times a year through third-party laboratories to confirm that they are made with 100% pure platinum silicone, exceed US FDA standards for food safety, and are BPA-free, CA Prop 65 compliant, and CPSIA compliant.
Are there other uses for MyMilk trays once I stop pumping breast milk?
Yes, MyMilk trays are designed to be endlessly reusable. Once Michelle, the creator of MyMilk, stopped pumping breast milk for her son, she started using MyMilk trays to freeze purees and soft foods in half-ounce portions as her son Benjamin transitioned to solids. Another alternative use for MyMilk trays is to freeze homemade minced garlic or ginger and homemade herbed butter cubes for the grown-ups in the household.