Product
What are Souper Cubes made from?
Our Souper Cube line of trays are made from 100% US FDA-food grade silicone. Our MyMilk line of trays are made from 100% pure platinum silicone. All of our trays are free of BPA, lead, PVC, and phthalates.
Where are Souper Cubes made?
Souper Cubes are designed in California and manufactured in China in a factory that pays fair wages and has safe working conditions.
Are Souper Cubes BPA-free?
Yes, both the trays and the lids are BPA-free.
Can I put Souper Cubes trays in the dishwasher?
Yes, both the trays and lids are dishwasher safe. We recommend using the dishwasher (on a normal cycle) to clean your Souper Cubes trays and lids after each use. This is the best way to make sure your Souper Cubes are as clean as possible.
Are Souper Cubes microwave safe?
Yes, but we do not recommend microwaving your trays. However, if the steel rim is exposed at all, the trays will no longer be microwave safe. If you use your Souper Cubes in the microwave, they will no longer be covered by the warranty. Instead of microwaving your food in the Souper Cubes trays, we recommend popping out the frozen cubes and reheating them separately.
Can I put Souper Cubes in the oven?
Yes, you can bake in your Souper Cubes. The trays are oven-safe up to 415F. The lids are not oven-safe.
How can I remove odor from the trays?
We have never had any residual smells or odors even though we've been using the same tray for over two years to freeze foods with garlic, onions, tomatoes, ginger, cumin, and other spices/ingredients. We always recommend using a dishwasher to clean your Souper Cubes. If you do not have access to one, then clean with soap and hot water. Still have a slight smell in the trays? You can try a baking soda plus vinegar wash or baking your trays in a 350F oven for 30 minutes.
Do Souper Cubes stain?
Souper Cubes trays are fairly stain-resistant. In fact, they have been tested by a third-party laboratory for stain resistance and passed. However, slight staining over a long period of use can happen and is not considered unusual. The best way to minimize or eliminate staining is by washing your Souper Cubes tray and lid in the dishwasher after each use.
If your trays do get stained, we recommend covering the stain in a 3% hydrogen peroxide solution for 24 hours. Cooks Illustrated has recommended this technique and has done testing that shows it is successful. https://www.cooksillustrated.com/how_tos/8614-removing-stains-from-silicone-spatulas
Will Souper Cubes fit in my fridge or freezer?
Yes, most standard freezers can fit our trays on their shelves.
How big are Souper Cubes trays?
The dimensions of each tray are consistent on the length and width as they can all use the same lid but vary in height. The dimensions of each tray are as follows:
Half-cup: 11.5" X 5.5" X 2.13"
1-cup: 11.5" X 5.5" X 2.875"
2-cup: 11.5" X 5.5" X 2.875"
How big are the cubes in each Souper Cubes tray?
Here are the dimensions for each of our cubes:
Half-cup: 1.18" X 4.13" X 1.93"
1-cup: 2.13" X 4.3" X 2.31"
2-cup: 4.13" X 4.3" X 2.31"
Why do Souper Cubes seem so expensive?
With Souper Cubes, we set out to create a high-quality product that would perform well in the kitchen and last as long as possible. Here are a few reasons for the higher price tag:
Construction: Souper Cubes trays are made using 100% FDA food-grade silicone that is thicker than the silicone you will find in other trays. Souper Cubes trays also use a high-quality thick stainless steel wire inside the rim of the tray to make it extra sturdy so that the tray does not collapse when you take it to the freezer. Material costs are also at an all-time high.
Labor: Souper Cubes trays are produced in a factory that has certifications for good labor practices. Workers are paid over 4 times the minimum wage for factory workers in China. Every step of making a Souper Cubes tray with the exception of the molding is done by hand. We have been to the factory in person and can attest to the safe working conditions in the factory.
Shipping and handling: Shipping and handling costs add to the overall cost of each item. Souper Cubes trays are large and heavy because of their high-quality construction, steel rim, and the amount of liquid/food they can hold, which increases the costs of shipping.
Size: Compared to an ice tray of similar construction, the Souper Cubes 1-cup and 2-cup trays have more than double the food capacity, making them a far better deal.
Our customers view their Souper Cubes purchase as an investment that will benefit them for many years to come. With Souper Cubes, you can greatly reduce your food waste and costs as you make and enjoy many more delicious meals at home.
Are Souper Cubes worth it?
Yes, but don't take our word for it! Check out #SouperCubes on Instagram to see how customers across the world are enjoying their Souper Cubes purchases.
What Souper Cubes colors are available?
Most Souper Cubes trays come in our standard aqua but we also offer limited edition colors. Check out our products page to see which colors are currently available!
Do Souper Cubes trays pass the "pinch test"?
It is often believed that if you pinch silicone and it turns white, this proves that there are fillers in the silicone. However, US food-grade raw silicone is naturally white. The silicone used in Souper Cubes is FDA approved and undergoes extensive testing on a regular basis to ensure it exceeds food safety guidelines. Our products are tested quarterly to ensure that they meet the California Proposition 65 guidelines in addition to the FDA guidelines.
Using Souper Cubes
How do I freeze food with Souper Cubes?
Place your food directly in the Souper Cubes tray. You can place hot food in the tray. We recommend placing the lid on the tray once the food has cooled to minimize any condensation and trapped steam.
Once the food has cooled, set it on a flat surface/shelf in the freezer. If you place warm or hot food in the freezer, it can potentially thaw adjacent foods. Allow up to 24 hours for the food to freeze depending on the temperature of your freezer and the food type. 
Once the food is frozen, remove it from the freezer and let it sit on the counter for 3-5 minutes. This allows the lid to warm up and expand making it easier to remove.
To remove the frozen cubes from the tray, simply hold the rim and push up from the bottom of each cube. The cube should come right out pretty easily. 
Place up to eight cups' worth of frozen food eight 1-cup cubes or four 2-cup cubes) into a gallon-size freezer bag. The bag should be just big enough to seal with all of the cubes inside. 
Label the bag with a permanent marker so you remember what you froze.
Wash your Souper Cubes trays and lid, preferably in the dishwasher to get them ready for the next use.
What types of food can you freeze with Souper Cubes?
You can freeze all types of food with your Souper Cubes! However, foods with moisture or a liquid base tend to freeze most easily. Most people use Souper Cubes to freeze foods like soups, stews, broth, and sauces. You can also freeze foods like rice, raw meat, shredded meat, chilis, and much more. Check out our recipes to get more ideas on what foods you can freeze with your Souper Cubes.
If you're freezing hot foods, we do recommend that you let them cool before putting them in your freezer to avoid thawing your other frozen foods.
How long do Souper Cubes take to freeze?
It depends on the content and the temperature of the food that you're freezing. However, most foods can take up to 24 hours to freeze. Foods with high water content tend to take longer to freeze than foods like mashed potatoes or rice.
Does food get freezer burned in Souper Cubes?
Food will become freezer burned when it is exposed to oxygen and loses its moisture. Souper Cubes lids are snug-fitting to prevent freezer burn as much as possible and you should not experience any freezer burn for 3-4 months. If you want to store your frozen food for a longer period, you can transfer your cubes into vacuum seal freezer bags. If your food becomes freezer burnt, it is still safe to eat. However, some of the flavors may be altered.
How do I reheat Souper Cubes?
You can reheat Souper Cubes using the method that works best for you! We recommend popping the cubes out of the trays and reheating them with your stovetop, oven, or microwave. If you want to reduce the reheating time, you can let your cubes thaw on the counter or in the fridge before you heat them.
How do I remove a frozen Souper Cubes lid?
Leave your frozen tray on the counter for 3-5 minutes. This method will allow the lid to warm up and expand enough to make it easier to remove. If you're in a rush, you can also run warm water over the lid.
Avoid trying to remove the lid when it is frozen because this can cause the plastic to break.
Should I remove my frozen food from my Souper Cubes trays and store them in freezer bags?
Most customers use the trays as a mold so they can reuse them to freeze other items. If you choose to leave the food in your Souper Cubes trays, we recommend using the food within 3-4 months to maximize the flavor of the dish.
Can I use the trays for commercial cooking?
Yes, several commercial kitchens including farms, commercial dairy companies, meal prep companies, and restaurants have used Souper Cubes for portioning stews and soups, packing butter, and more.
Can I use Souper Cubes for baby food and breast milk?
Yes, materials are all food-safe and tested for use with food for human consumption. Make sure to sterilize your Souper Cubes before your first use. You can boil your Souper Cubes trays or use your dishwasher's sterilization feature. Between each use, clean your Souper Cubes with soap and hot water.
Can I use Souper Cubes in my freeze dryer?
Souper Cubes have not been formally tested in a freeze dryer. That being said, silicone is considered safe for a freeze dryer. This article has served as a great resource for our customers who utilize our trays in a freeze dryer and also includes best practices for freeze drying with silicone molds.
My Order
How can I buy Souper Cubes outside the US?
If you're not located in the US, you can find Souper Cubes on amazon.com, amazon.ca, or amazon.co.uk . Note that Amazon will add additional import fees, duties, and shipping costs to your order. 
We also have several retail partnerships with stores in Canada, Australia, Mexico, and South Africa. Send us an email for the full list of retail stores in your area. 
Check out our non-US customers page for more details.
What is your returns policy?
Can I cancel my order?
Souper Cubes is a family-owned business with a small team and we are unable to provide 24/7 customer service. If you would like to cancel your order, please send us an email. If we view your email before the end of the day, we might be able to cancel your order, but it is not guaranteed. 
If you've ordered Souper Cubes from another website, you will need to contact their customer support to cancel your order. 
Why doesn't my discount code work?
Here are a few potential reasons why your discount code doesn't work: 
Your discount code is expired
You've entered the wrong code
You're trying to use multiple codes in the same order
You're ineligible to use the code 
Your order doesn't qualify for the code 
Contact us if you're still having trouble with your coupon code. Please ensure your coupon code is applied before you checkout.
Does Souper Cubes have a warranty or guarantee?
We offer a 1-year warranty against manufacturing defects. Evidence of the defect must be provided. The customer will receive a replacement tray or lid corresponding to the defective part. 
Not valid on:
Products that have been modified, altered, or repaired in any way. 
Damage caused by the user or improper use of the product. 
For lingering food odors or stains caused by improper cleaning methods or techniques. 
For lids damaged by the user.
For purchases made outside of the U.S.*
*For purchases made outside of the United States, please contact the retailer that you purchased from.
Shipping & Tracking
Where does Souper Cubes ship to?
We ship anywhere in the US and US territories. See our non-US customers page to learn how to purchase Souper Cubes outside the US.
How much is Souper Cubes shipping?
We subsidize shipping on all orders so that you only pay a small portion of the total shipping costs. 
For eligible orders over $45, we offer free standard shipping. See our free shipping policy page for more details. 
For orders under $45 in the continental US, standard shipping is $4.99.
For orders under $45 in other areas, standard shipping is $11.99. 
See our full shipping policy page to learn more. 
Why doesn't Souper Cubes ship to Canada?
Souper Cubes is an American-based company. Unfortunately, our warehouse is not equipped to ship outside of the US and US territories at this time. If you live outside the US and would like to purchase Souper Cubes, please visit our non-US customers page for more information.
About Us
Who are the creators of Souper Cubes?
Michelle and Jake, wife and husband, are the creators of Souper Cubes. Michelle is a seasoned educator turned accidental entrepreneur, currently working on her Ph.D. in Higher Education. Jake is a product leader and veteran of the Silicon Valley tech world. He holds a Ph.D. in Electrical Engineering. Our friend and partner Sasan, who has a background in manufacturing and import/export, completes our Souper team.
Why did Michelle and Jake start Souper Cubes?
Michelle and Jake have always had a passion for food and believe that it connects them to their family traditions. One of their favorite family recipes is their chicken stock recipe, but they always struggled with freezing the leftovers. The pair decided to start Souper Cubes to make it easier to freeze and reheat soups, broths, and other foods in perfect portions to make freezing food convenient, simple, and fun.
When was Souper Cubes on Shark Tank?
Souper Cubes was featured on Shark Tank on February 19, 2021, Season 12, Episode 14. Michelle and Jake not only got the opportunity to pitch Souper Cubes, but they also got a deal AND Lori Greiner's golden ticket! Click the link to learn more about our Shark Tank journey.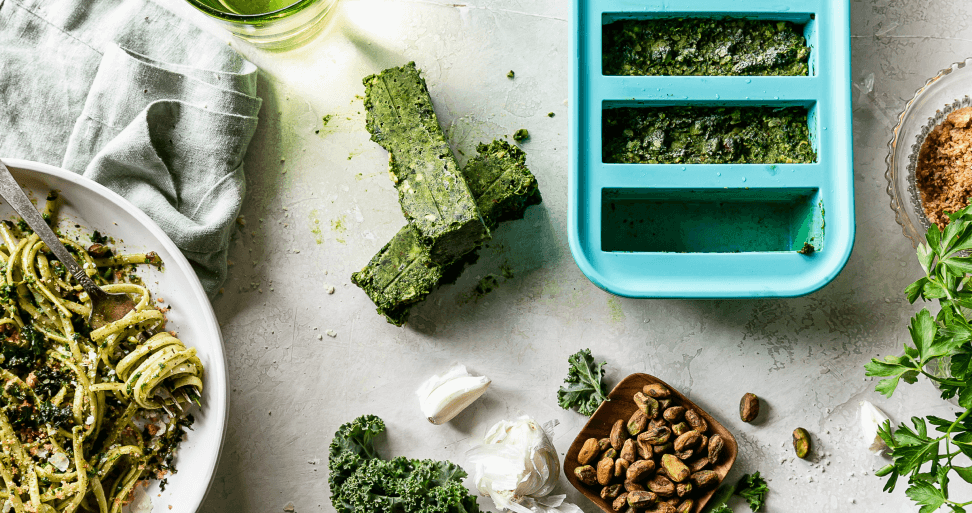 Happy Freezing!
With Souper Cubes, you can enjoy better and perfectly portioned freezer meal prep.
High-quality materials
Food grade silicone
Dishwasher safe