Description
Freeze up to four 1-cup portions at a time. Pop on the snug-fitting lid to keep out odors and stack the trays in your freezer. Walk to the freezer with confidence thanks to our thick sturdy silicone walls and a sturdy embedded steel frame. To maximize freezer space and your tray, place up to 8 frozen cubes in a gallon freezer bag.

Features
Made from 100% FDA food-grade silicone

Fill Lines: half-cup / 1-cup, and 125mL / 250mL

NO BPA, lead, PVC, or phthalates

Dishwasher safe

Oven safe up to 415F (trays only)
Tray measures 11.75" X 5.75" X 2.5". Frozen "cubes" "cubes" measure 2.125" x 4.25" X 2.25".
Available Colors
Freezing Suggestions
Bone broth or chicken stock
Slow-cooked spaghetti sauce
Mushroom and Barley Soup
Banana Bread
How Do Souper Cubes Work?
Fill. Freeze. Reheat
Put your food into the Souper Cubes tray, hot or cold!
Place the lid on top of the tray and store your Souper Cubes tray in the freezer.
Pop your frozen food out! Reheat in the microwave, on the stove (in a pot), or in the oven – it's your choice!
More Great Products to Add to Your Collection
Reviews from the #SouperCubesFam
Customer Reviews
Write a Review
Ask a Question
Love these!
Use these all the time. They are so handy and save so much waste!!
05/15/2022
Joyce E.

United States
Purchased for a gif.
I have and actively use four , 2 cup containers and four 1 cup containers and They are used frequently. I make bulk chuck roast and package the meat and broth separately. Also do this with chicken. Try cheesy potatoes ( also called holiday potatoes ). Nice t have the available to put with an entrees. Other cubes in our freezer are ham and beansm,chili, lasagna, Italian meat sauce, German cabbage rolls, chicken pot pie, meatloaves…uncooked but cooked and ready to go. LOVE LOVE LOVE these cubes. Make great gifts.
04/14/2022
Marilyn W.

United States
Souper!
Looks to be high quality product! Will be so handy for freezing small meal sized portions of entrees we like to keep on hand! Very pleasant communication with company - and great tips, too!
04/01/2022
Christina

United States
The thing you never knew you needed
Trust me when I say this is one of those things you never knew you needed! It's the little things that make the biggest differences. I was looking for some molds to use for rendering lard so I could move away from using glass jars for storage. I wanted butter-shaped molds so I could freeze them for later use, but most of the molds on Amazon had poor reviews because they were so flimsy.... until I came across Souper cubes! Several people commented on the high quality, the metal frame of the silicon mold + the rigid lids. I decided to give them a try and I'm so glad I did! I'm also using them to freeze eggs, soups, etc. and can now wrap-n-stack everything nicely in the freezer instead of having a bunch of random, wavy frozen ziploc bags getting torn up (you know what I'm talking about). I have the 1/2 cup and 1 cup versions and now I'm getting ready to buy more for Mother's Day gifts as well as some of the larger sizes. If you're on the fence, just buy these. They're a little more than the cheap versions on Amazon, but they're definitely worth it because they'll last forever.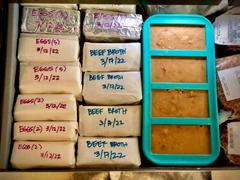 03/29/2022
Cathy

United States
Wonderful!
I am so pleased with both the 1cup and 2 cup souper cubes! Freezer space has greatly improved! Thanks!