This patent-pending tray is designed to freeze cookie dough in perfectly sized and shaped cookies so that they freeze easily, save precious freezer space, and let you bake as many fresh cookies as you want, when you want. Say good-bye to the days of using a large sheet pan to freeze your cookie dough.
Each cookie well is roughly 1.6 inches in diameter and bakes a 2.5 inch cookie. Included in this set are two cookie trays and two lids, freezing a total of 20 cookie dough discs. A steel-embedded rim and thick food-grade silicone keeps each tray sturdy. Our snug- fitting lid keeps odors out and enables easy stacking.

Makes a 2.5" cookie, equivalent in volume to a #40 cookie scoop

Use as a mold and remove frozen cookie rounds, or store up to 20 cookie dough rounds at once

Food-grade Silicone trays with steel reinforced rims are extremely sturdy and easy to handle

BPA Free, Dishwasher Safe, Oven safe up to 415 deg F

Snug fitting lid keeps out freezer odors, enables easy stacking and long term storage
To easily remove the lid, allow it to rest on the counter for 3 minutes after removing from the freezer. Lift up on the lid tab while using the wrist and forearm as an anchor on the rest of the tray. 
Orders typically ship wihin 24-48 business hours
Free Standard Shipping on orders over $50
Favorite Things to Freeze in The Cookie Tray:
Our Featured Souper Products
Customer Reviews
Customer Reviews
Write a Review
Ask a Question
05/17/2021
Julie K.

United States
My mom was thrilled!
I got my mom a set of SouperCubes for Mother's Day. I also "cubed up" a bunch of dinners for her freezer to show her how they worked. She was thrilled and showed them off to her friends. Thanks for such a great product!
05/03/2021
Cecilia S.

United States
Cookie Cubes
I love that this product makes it easy to freeze cookie dough without worrying about it sticking together and that you can bake individually. As an older single person this makes it easy to indulge in one or two cookies without the fuss and muss of a whole batch at one time. Have several Souper Cubes and love them all.
04/24/2021
Jennifer G.

United States
Linda's Snazzy Oatmeal cookie recipe
Who would have thought that I would be writing to tell you that the best thing about the cookie trays is Jake's mom's recipe? After 40 years of using my mom's recipe, yesterday I tried the recipe on the label. My husband declared, "Best oatmeal raisin cookie you've ever made!" Sorry to my mom, but your recipe has just been replaced!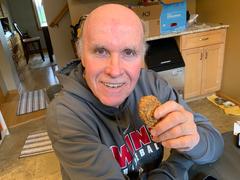 02/13/2021
Tracy R.

United States
Cookies!!!
This tray has already been soooo useful in just a few days. Cowboy cookies, snickerdoodles, and two-bite brownies in the freezer, ready to bake or warm up. And the color is so cheerful!
02/09/2021
Toia M.

United States
Upping my freezer game...
I am loving my Souper Cubes. Since purchasing them I have started making my own stocks and try to freeze a little of our larger quantity meals. It is so fun to watch as my freezer is being transformed...