Customer Reviews
Customer Reviews
Write a Review
Ask a Question
06/23/2021
Claire S.

United States
Amazing!
I bought these not for cookies but to shape my granola bites! It worked wonderfully! I put them in the freezer and baked them afterwards. Delicious and just what I was hoping for! I'm definitely going to be trying their other products :)
05/17/2021
Julie K.

United States
My mom was thrilled!
I got my mom a set of SouperCubes for Mother's Day. I also "cubed up" a bunch of dinners for her freezer to show her how they worked. She was thrilled and showed them off to her friends. Thanks for such a great product!
05/03/2021
Cecilia S.

United States
Cookie Cubes
I love that this product makes it easy to freeze cookie dough without worrying about it sticking together and that you can bake individually. As an older single person this makes it easy to indulge in one or two cookies without the fuss and muss of a whole batch at one time. Have several Souper Cubes and love them all.
04/24/2021
Jennifer G.

United States
Linda's Snazzy Oatmeal cookie recipe
Who would have thought that I would be writing to tell you that the best thing about the cookie trays is Jake's mom's recipe? After 40 years of using my mom's recipe, yesterday I tried the recipe on the label. My husband declared, "Best oatmeal raisin cookie you've ever made!" Sorry to my mom, but your recipe has just been replaced!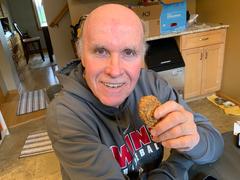 02/13/2021
Tracy R.

United States
Cookies!!!
This tray has already been soooo useful in just a few days. Cowboy cookies, snickerdoodles, and two-bite brownies in the freezer, ready to bake or warm up. And the color is so cheerful!